Watching "The Clock": If it's 3:44pm it must be Orson Welles
Put this in your e-diary now: Anyone in Sydney this Thursday has one last chance to watch The Clock for 24 uninterrupted hours (or any part of)  from 10 am Thursday to 10 am Friday, before the run closes for good this Sunday.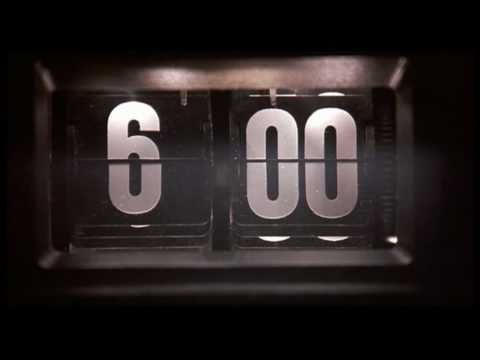 The week before when I was up in Sydney for a few days and staying 10 minutes walk from the newly reopened MCA on the Quay, I found myself gravitating there each time I went past. Just to grab fifteen minutes, or an hour, or a slab of The Clock.
Christian Marclay's The Clock is the art world hit of the last year: a collage of scenes from thousands of films — Hollywood, Korean, English, Polish French, Indian etc — each of which show a watchface or a clock tower or a digital display or someone saying the time. It all ticks past in the same temporal space as you — the watcher and the watched are  synchronised. James Stewart checks the time at the same moment I look at my phone in the dark — it's 5:37 in Vertigo, it's 5:37 in Sydney.
If it's 3:44pm it must be Orson Welles
None of the clips are from documentaries , a crucial element — when a scripted film shows the time, something is anticipated, something is heralded — it indicates impending drama. (Another crucial factor is that the film samples are from high production originals, so The Clock escapes that bane of video art — pathetic production values.) In a normal film, these climaxes or precursors to climaxes occur infrequently; in The Clock it is constantly on the verge of urgent.
And because something is going to happen all the time, we keep watching to see what it is that happens. But we are always frustrated because from the middle of a scummy 'hood of LA in the 1970s we're suddenly warped into France waiting for the 4:30 bell to ring so fresh-faced kids can burst free from class.
As I watch, Orson Welles says, It's 3:44. I have seen him say this twice now, and the second time I still wondered what time it was, I had forgotten. But now I know, if it's 3:44 in the afternoon, Orson Welles is turning to a couple of ladies.
And all the time, you keep half remembering the names of stars, or the movie from which the clip derives.
You witness strange wormholes — there's Maggie Smith brightly sassy at 35 in her prime as Miss Jean Brodie; there's Maggie Smith bewrinkled in what film is that?, and we're away again. There is young Orson Welles. There again is even younger Orson Welles playing an old man just deceased.
The time is right now, but the time is also slip-sliding across several decades every few minutes.
What time is 6 am? It's when Bill Murray smashes his clock on the floor, one of many times in his temporal space of Groundhog Day, that meditation on Buddhist recurrence and evolution, which then becomes our Groundhog Day, but ours — and Bill Murray's in this version of Groundhog Day in The Clock — never evolves. Once again Sonny and Cher serenades us with I've Got You Babe, at the ungodly time of actual 6 am. That same 6 am will always recur in The Clock, like every other minute, but unless you watch them all, you'll never know what happens next, over and again.
The Clock is an addictive drug, an illustration of Oscar Wilde's line: "A cigarette is the perfect type of a perfect pleasure. It is exquisite, and it leaves one unsatisfied. What more can one want?"
+++
The time of your life
When we watch a movie we want to be suspended, to be transported to another place or time. A thought that crops up every so often, as you watch The Clock, is: oh em gee, I'm just watching the time pass away … This is real time … What am I doing here? … Why aren't I outside doing something? And then something will catch your eye and you're back in movie time, except that it's also real time. In The Clock, it's always time — time, folks — as the bartemeders say at the end of the night; and it's always later than you think … all those things you haven't done.