Matrix Sister: Post-Bro Wachowski's revelatory speech
The video: Lana Wachowski's funny, tender, moving speech on her transgender journey. November 20 is Transgender Day of Remembrance.
You all know what happens every year on November 20. Yes, today is Transgender Day of Remembrance! It memorializes "those who have been killed as a result of transphobia." And spotlights "the hatred or fear of transgender and gender non-conforming people, and acts to bring attention to the continued violence endured by the transgender community."
Here's the list of events around the world, inc. Melbourne (and Kuala Lumpur! and Quezon City!). Sydney here.
Anyway, a friend sent me a link a month ago which was the acceptance speech for this year's Human Rights Campaign's Visibility Award. The recipient was Lana Wachowski, once Larry, of the Wachowski Brothers, creators of The Matrix films and V for Vendetta, and the recently released Cloud Atlas.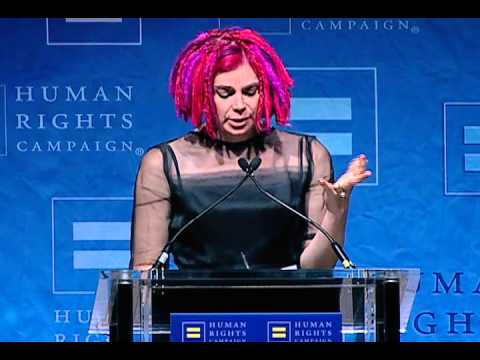 A month before that I read a fascinating profile of the siblings in the New Yorker. Aleksandar Hemon writes of the time they were living in Australia around 2002-3, shooting the Matrix sequels:
At the same time, Larry, who had separated from his wife, was dealing with depression and struggling with his gender situation … "For years, I couldn't even say the words 'transgendered' or 'transsexual,' " Lana told me. "When I began to admit it to myself, I knew I would eventually have to tell my parents and my brother and my sisters. This fact would inject such terror into me that I would not sleep for days. I developed a plan that I worked out with my therapist. It was going to take three years. Maybe five. A couple of weeks into the plan, my mom called."

Sensing that something was wrong, Lynne Wachowski flew to Australia the following day. The morning after her arrival, Larry told her, "I'm transgender. I'm a girl." Lynne didn't know what he meant. "I was there when you were born," she said. "There's a part of me that is a girl," Larry insisted. "I'm still working at that."…

A couple of days later, the Wachowski family went out to dinner in Sydney. Larry was now renamed Lana and was dressed as a woman. A waiter referred to Lana and Lynne as "ladies." The next day, Lana showed up at work in her new identity, as though nothing had happened.
So, the speech. You can skip the intro yada which goes to the 5 min mark. Lana speaks for 25 minutes and it is gripping stuff. She claims she has never made a speech before but her performance — punctuated with pantomime — will make you laugh, and she'll move ya. She is very smart and very together.
You can read the transcript instead but you'll miss the wonderful expression and witty body language and her distinctive husky, squeaky voice. There's a funny, tender bit about the idea of coming out around 13:30:
… I know there is going to be a price for it. I knew I was going to come out but I knew when I finally did come out I didn't want it to be about my coming out.

I am completely horrified by the "talk show," (makes air quotes, winces, general laughter)

… the interrogation (waves arm) and confession format (waves arm),

… the weeping, the tears of the host (makes a face, arm movements indicating sprouting tears; laughter, applause)

… whose sympathy (makes sad face) underscores the inherent tragedy of my life as a transgender person (nods head wisely).

And this moment fulfilling the cathartic arc of rejection to acceptance without ever interrogating the pathology of a society that refuses to acknowledge the spectrum of gender in the exact same blind way they have refused to see a spectrum of race or sexuality. (Applause, whistles)
As Oprah would say, You go girl!