1
Liked it: Perfume Genius at the Northcote Social Club. (Performs across Australia in the St Jerome's Laneway Festival.)
Perfume Genius made several distinctivel videos last year including two of 2012's most memorable, Hood and Take Me Home. Last night a fully hipster crowd turned up at the NSC band room to see the goods live, shorn of cinematic enhancement.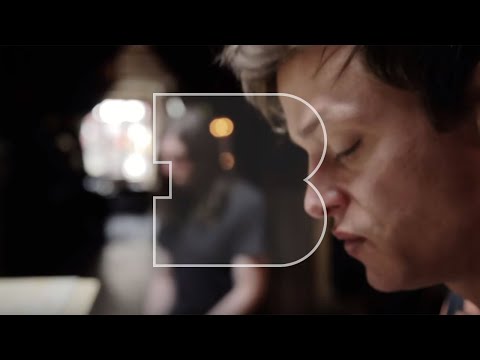 Perfume Genius is Mark Hadreas on piano, backed by keyboardist Allan (I believe that's his boyfriend) and Richard(?) on drums. They mostly overcame an obstreperous sound mix to deliver what you might expect from the videos: warm, intimate, emotional confessionals. He sings and plays with great feeling — and that's mainly what his audience would have taken away. It's obvious that Hadreas possesses great musicality; and with an inverse kind of confidence, all the songs seemed to come in under 3 mins; the show a tight, filler-free sub-hour.
At 31 Hadreas presents as slight, sensitive and boyish with a particular haircut (short back and sides, tumbling locks), meticulous red nail polish, excellent manners and a winning line in self-deprecation. Aimee Mann has remarked that it's hard for musicians to swap into banter when they're in their music space. Hadreas couldn't help but speak occasionally to the crowd as it was standing right up to the stage. At the end he said, Thank you, thank you for coming, I know the tickets were expensive ($46 inc. fees). Well, they're expensive to me. As the appreciative encore started he returned promptly, waving shyly,amusingly adding, Thank you, thank you, I've come straight back out, thank you.
I'm guessing most of the crowd, like myself, would have been intrigued but not very familiar with PG's work — that silent attentiveness which comes from listening for a melody hook, or rhythm pattern, or repeated lyrics, waiting for the sounds to cohere into an aural shape. When he covered Neil Young's Helpless I listened differently, anticipating the contours and looking (hearing) forward to novel incursions.
Perfume Genius plays across the country in the St Jerome's Laneway Festival, last stop Perth, Feb. 9. A very useful interview on same same.
This video of Dark Parts, a song of tender praise, is about and features his mother. (He gives it an urgency, live.) Allan, the boyfriend, appears stirring a pot. The final line: 'I will take the dark part / Of your heart into my heart.'