1
Loved it: The Necks at The Corner, Richmond. Part of a national tour.
Necks connect heads to bodies.
Our heads to our hearts.
I was at the Wheeler Centre a couple of years ago when the hippest writer in Britain, Geoff Dyer, said casually to the crowd that we had the most exciting group in the world in Australia.  The Necks!, he said in mock surprise.
The Necks aren't jazz, exactly. Wikipedia suggests trance jazz, experimental jazz? But "Jazz" conjures up Louis and Ella, Miles and Coltrane, Vince Jones and James Morrison. Labelling what The Necks do as jazz is as profoundly misleading as saying Francis Bacon is a portrait painter in oils.
Better to imagine three necks as cylinders, enormous, huge empty cylinders, now laid on their sides. You are standing in one of them, and a susurration of sound begins, of leaves and twigs and pages swirling around your feet. Within minutes you are in the middle of a sonic cyclone, a cosmic beehive.
(Right: my little trance sketch of bassist Lloyd Swanton at play.)
The Age reviewer Jessica Nicholas decribes The Necks' method. Here's how they started: "Pianist Chris Abrahams sketched the opening contours of the first offering, evoking an air of serenity with his hypnotic, unhurried ripples. Lloyd Swanton added quivering arco bass, while Tony Buck softly whisked a brush against his snare drum and jangled a small, hand-held bell."
This clip is a brief extract — but its tidy youtube brevity can't contain the elements that make The Necks an essential live experience: the open-endedness, the expanse of time: 40 mins–an hour at a stretch, the sheer volume that immerses you, the unrepeatability of the improvisation. Chaos: sensitive dependence on initial conditions — a moth wing beating in the corner of the room …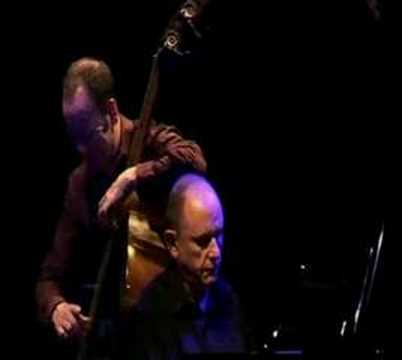 Pianist Chris Abrahams (video 6:25): "There is no premeditating … we tend to play things that are very simple, we play them over and over again. The humanness of repetition … Because what we play is so simple and we ourselves get mesmerised, we can sort of go between being player and a member of the audience.'
Maybe it's sacrilegious, but inside their opposite of silence I was thinking of John Donne's Batter my heart, three person'd God:
Batter my heart, three person'd God; for, you
As yet but knocke, breathe, shine, and seeke to mend;
That I may rise, and stand, o'erthrow mee,'and bend
Your force, to breake, blowe, burn and make me new.
A superior version of the above track, Pop will eat himself, here. The Necks tour dates here.