5
Dreamliner debut now planned by Qatar for Perth next month
Qatar looks the certain winner of the 787 stakes in Australia, while Qantaslink continues to firm in speculation for an Airbus A319 order.
Not Air-India to Melbourne by August, not China Southern to Sydney early next year, but Qatar Airways from Doha to Perth in late December now seems highly likely to be the first scheduled service by a 787 Dreamliner to Australia.
Speaking to travel writers in Belgrade, the chief executive officer of the airline, Akbar Al Baker said the 787-8 would be used in the last week of December to lift the current frequency of its Perth-Doha service from three flights weekly to daily, apparently at first in association with the 777s now flying that route and the longer flights from the middle east hub to Melbourne.
Al Baker was speaking shortly after Qatar's current single 787-8 began shakedown services between Doha and Dubai, prior to being transferred to the London route.  He was quoted in Travel Daily as saying the airline would soon have four of the Dreamliners, out of 30 on order, in service.
The YouTube below shows that first Qatar 787-8 being used to entertain the crowds at this year's Farnborough Air Show, when flown through sets of steep climbs and tight banking turns by Boeing pilots with a licence to thrill.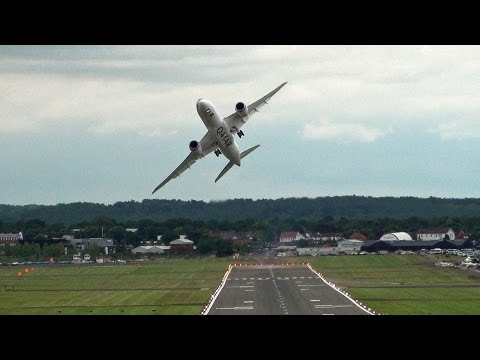 Early this year Air-India insisted it would be first to fly the 787 to Australia, talking up a complicated circular routing through Sydney and Melbourne in either direction to New Delhi or Mumbai via various other cities in India that would have taken most of a day.
After that plan dropped off the radar the next airline expected to fly a scheduled Dreamliner to Australia became China Southern, which does seem highly likely to happen on the Sydney-Guangzhou route early in the New Year.
Which means Qatar is now the hot favourite to win the Dreamliner stakes in Australia.
In other developments, Qantas is widely expected to announce an order for single aisle Airbus A319s for its Qantaslink regional brand in the near future, to the apprehension of pilots engaged by its full service domestic division. 
Qantas has a policy of not commenting on fleet speculation. But it does appear to be gearing up for more and newer jets in its Qantaslink operation, which given the growth of flights in that part of its domestic network, could reasonably be seen as inevitable.