20
The day the Red Star fell to earth at Le Bourget
There was a flying contest at Le Bourget north of Paris 40 years ago that was not about anything as predictable as those between today's airliner makers.  It was between the dueling supersonic airliners, the Concorde, and the Soviet Union's TU-144.
This was wasn't Airbus v Boeing, but East versus West.  And the West won. The TU-144 crashed, already in pieces from structural failure, into the village of Goussainville, killing eight people on the ground and all six who were on board.
Not everyone will agree with the writer's recollections or reports from that crash, but most of those who saw it most likely would agree, as would one person in particular, Sir George Edwards,  the head of Concorde partner the British Aircraft Corporation.
I was standing beside Edwards in the BAC Chalet when the pride of the USSR crashed to earth.  As an ABC News and Television reporter on assignment in Paris, I had my 'giant' ¼ inch tape Nagra recorder with me.
Edwards gave me a succinct summary of what we had just witnessed, then I disassembled the telephone on a nearby desk, jacked the Nagra into the mouthpiece with alligator clips, and played the unedited interview down the line to Aunty.
Concorde and the TU-144 were in an avowed contest to thrill the crowds and display superiority over each other.  Doing so at low altitude and speed would not have proven anything really from the point of view of  the world's airlines, many of whom, including Qantas, had signed up for intentions to buy the supersonic Concorde, if it all worked out.
But that was what air shows have always done.  The goods are not just put on ground display, but often in a flying display, and in 1973 Concorde and the TU-144 were being flown for visual effect, in ways neither would ever be flown with paying passengers on board.
On 3 June, 1973, Â Concorde took off first and immediately performed a series of graceful wing rolls followed by a steep but smooth climb in what was from memory several passes of the line of chalets and their viewing terraces or areas.
The TU-144 followed the routine, but lurched rather than rolled from side to side,  in an aggressive and clumsy looking display in which the afterburners were re-ignited at the start of the climb. (Memory says Concorde also fired them up at this point, but memory may be wrong. ).
There were two passes by Concorde, bracketing the visibly less stable turn in, wing waggle  and climb routine by the TU-144.  The BAC chalet was the place to be.
On its second pass the TU-144 was notably more aggressive in its handling than on the first.  It slammed from one side to the other, and then entered a breathtakingly steep climb, afterburners on.  Conversation stopped.  At the vertex of the parabola the TU-144 seemed to slow notably.  There was a hint of a shudder, and  on the starboard side, which was being presented to observers, there was a mist of brown that briefly appeared behind the engines on that side.
Reheat was off.  In a matter of seconds the TU-144 was falling, ever faster downwards. "He's lost it" Edwards said.  Edwards, 1908-2003, was as qualified as anyone on earth to make such a call.  A few seconds after that everyone else was gasping their disbelief then dismay as the delta winged SST became notably faster in its downward trajectory.
Looking from behind, it was suddenly obvious that the nose had been raised into a flatter attitude than before. It was now well beyond the perimeter of Le Bourget. The TU-144Â  was being pancaked downwards. There were several quick eruptions of flame from the fuselage ahead of the leading edge of the delta wing, one much larger than the other, Â almost instantly followed by a catastrophic break up of the first half of the airliner into large chunks and streams of debris.
Several seconds at most after that there were two large impact balls of flame and smoke on the horizon. A church steeple snapped and fell over.
Either just before or after this Concorde touched down at the opposite end of the field from the belching smoke from Goussainville.
The flying show public announcer announced whatever it was that then took off on the  flying program roster.  No mention was made of the twin plumes of smoke  on the horizon from the loser of the supersonic airliner show off show down.
Edwards outlined the sequence of events in a matter of fact delivery.  Reheat, steep climb, possible aerodynamic low speed instability, definite engine stall on starboard side, puff of unburnt fuel from attempt to restart it, steep descent, recovery effort, nose high, aerodynamic rupture, crash.
It was scoop time.
A quick call to the London bureau. 'Concordski down'. Get me a TV crew.  Raw interview coming down the line next.  (Was able to work in with BBC crew that came running from further down the flight line. )  Quick exec decision taken to leave the impact zone to either BBC or RTF to keep hooking up to project leaders at Le Bourget.
Russians not talking.  Same people who had refused earlier requests to go flying on the jet. They were sitting with their backs to a locked door into their area. By contrast, Airbus Industrie had been more than willing to let me on board their A300 demonstrator with cameras, with  Bernard Ziegler, Airbus test pilot and head of engineering,  and US presidential hopeful Senator Barry Goldwater,  at the controls,  but that was another happier story from my first Le Bourget.
Like the French media,  who had been onto the 'flying contest' between the supersonics for days,  the ABC story was about a fly-off that had ended for whatever reason in a crash.
The special BBC 'hit' team that charged through the door quite some hours later from London  was aghast at the angle taken, perhaps because it implied Concorde had been somehow responsible for the TU-144's misfortune.
Which was never implied or framed in such a manner.  The  local media approach to the situation, and that of various qualified aerospace authorities, including Edwards,  was that the TU-144 had been flown outside of its capabilities, and that the consequences through handling issues at top of climb, with or without the additional challenge of a related engine stall, came together to bring it tragically undone.
This account of the crash in Wikipedia accords with this view.
Although the quality of the video isn't great there is an historic YouTube of a story on Planete  which captured Concorde starting its routine as the TU-144 that crashed is moving into position for takeoff. To view it you need to first visit this page on a TU-144 site then locate it under the title Concorde and TU-144 Paris Air Show.
There are two screen captures from this below.
One of the astonishing things about the 1973 crash was that no television footage of the entire sequence of the  crash has ever been found searching accessible video libraries. It was witnessed by tens of thousands of spectators but not apparently, recorded in full by the camera crews present.
None of them were following the TU-144 from reheat and climb to the first signs of difficulty that stopped the small talk in the BAC Chalet. It was an event that took only seconds to play out.  The various reports that are discoverable start either just before or immediately after the fuselage ruptures under the excessive forces of a drastic recovery pull up by the crew.
One of them is shown below.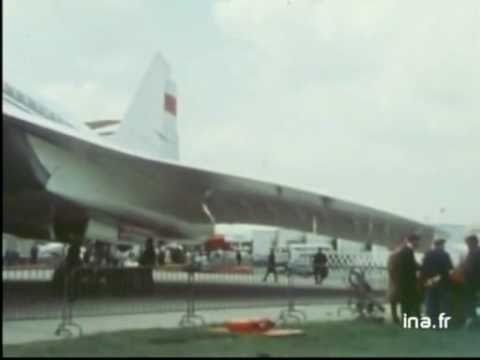 Much has been made in subsequent years of claims that a French Air Force Mirage, which distantly followed the TU-144 on its second ill-fated pass  'surprised' the pilots.
The Mirage was trailing the SSTÂ  on its starboard side from where it could have, as speculated, been observing the deployment of the retractable canard winglets mounted behind the cockpit, and some other control surfaces as well.
But in that position it seems to have been in the blind spot of the second test pilot, who may however have learned of its presence by radio.  It was a  long a way away, and certainly not a factor in the engines afterburners being relit and the jet initiating a steep climb from which for a combination of factors it was unable to recover.
The merits of an observation mission seem questionable.  The 'west' knew what the canards did, and what their dimensions were to the last millimeter well before the jet arrived in Paris, where spooks had limitless opportunities to walk under and around the jet and take all sorts of photos of it.
The Russian jet was flown by test pilots, meaning they wouldn't be surprised by anything,  and at the time the Mirage comes into frame, the TU-144 is committed to a course of action that proved fatal. There is no time nor reason for the second pilot to glance over his right shoulder.
This year there will of course be flying contests at Le Bourget.  Sane ones. Not flypasts of 787s pulling Gs followed by the surprises appearance of an A350 pulling Gs.  There won't be, indeed never has been, dueling fly pasts by 777s and A330s or A380s.
The only surprises will be the statistical analyses which will as always, be masterpieces of emphasis, arithmetic, and exquisitely selective data starting points  that ought be reviewed by forensic accountants rather than aviation journalists.
May all those present enjoy the spectacles, in the air, or in Powerpoint.
The technicalities of reporting  in 1973.
Voice inserts, as the ABC then called them, were almost instantaneous, while TV, shot on 16 mm film, and then developed and sound synched, took about three days to get to air in Australia. Which  would be around two days after the headlines on a newspaper reporting the same incident had gone to fish wrappers.
Satellite crosses cost something like $US 70,000 for a few minutes. No "take two" allowed, ever.  There weren't many satellites either, they had to be booked in advance, and 20-70 grand was the sort of money that in those days bought a line of three or more inner Sydney harbour view cottages that these days go far millions of dollars apiece.
But we did eventually use a satellite, for about 30 seconds,  to top and tail to camera a voice over done against footage of the crash. Which came after much scripting to and fro by telex (look it up) and recording it to the exact second using a datel line, which was a large number of telephone lines simultaneously tasked with conveying speech at passably broadcast quality within the capabilities of 70s communications technology.
It was anything but straightforward, but unlike today, reporters always had time to review what they knew, and think before speaking.