1
Outland – A faltering step in the right direction
[Laugh Track blogger Matt Smith weighs in with his thoughts on the new ABC1 sitcom Outland]
There's nothing particularly subtle about Outland, a new series which premiered its first episode on ABC1. If I say that it's about a group of gay, science fiction geeks, you can probably join the dots on what you're going to see. Safely attempting to swath itself in two key audiences, it toes the line of potentially insulting both – probably at least cutting too close to home.
Beyond being a comedy series about a gay science fiction club, Outland tells the story of Rae (Christine Anu) the wheelchair bound matriach, Max (Tovy Truslove) the neurotic and edgy one, Fab (Adam Richard) the loud and theatrical one, Andy (Paul Ireland) the muscled confronting one, and Toby (Ben Gerrard) the other neurotic edgy one, but he's rich.
There's not much else to it. From what I know, each of the episodes will focus more on one of the characters, in their own unique setting, if you can stick around for them. Beyond that the show smells a bit of low vision, low budget, and relies on the fallback of characters bickering to drag it through the timeslot.
There are some funny moments in this – Adam Richard as Fab is a bit scene stealing, especially when he swishes out of the closet in a strangely camp Dalek costume (if that's possible). Although as I've said, there wasn't much scene to steal. The story for the episode was Max trying to keep his science fiction interests hidden from his hot 'normal' date. The ruse is somehow kept up well beyond its logical conclusion – despite all the dalek references.
Props need to be given to John Richard for pulling his vision together, and to the ABC for not leaving it in the closet (where they've been quite happy to let it gather dust for the past year or so). But besides a few awkward laughs (one of them being a bit delayed as I tried to remember what 90s science fiction show had an alien race called the Minbari), Outland was watching a show that thought that conflict and arguing in louder voices equals humour. It might in small doses, but not for half an hour.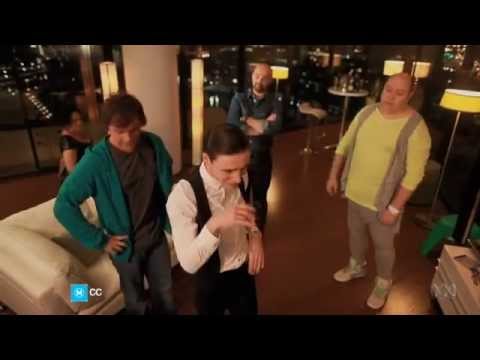 I should say as well, it's not that I found the characters unrealistic. Strangely enough, I've known people like that, science fiction geeks that are just so inwardly focused and intense, most conversations quickly become a shouting match. Realism isn't really the problem in this instance, it's just that realism alone, no matter how confronting, doesn't particularly make for funny television.
Ultimately, both the gay community and the science fiction geek community will probably just be so relieved to be the target audience for once in an Australian television show, that they'll forgive the flaws. It's a bit daring, harmless, and can't be compared to anything else. It was a step in the right direction, and those should always be encouraged. It's a step in the right direction, hampered by stairs. Unless, of course, you've seen Remembrance of the Daleks.
Outland is on Wednesday nights, 9:30pm on ABC1.