News from Planet Earth: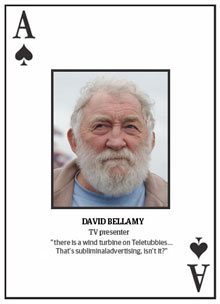 Not ace: Just who are the world's leading climate change deniers? George Monbiot has a round-up in The Guardian, in playing card form. A handy guide.
Audience participation 1: With negotiations on the new international climate change treaty due to open in three weeks' time, The Independent is using readers' input to "develop a comprehensive map of the issues around climate change that are confronting the negotiators." Interesting.
Audience participation 2: Citizen weather-watchers who "contribute their observations of flowering, fruiting and other seasonal events are part of a new Internet-based program launched by the USA-National Phenology Network, a consortium of government, academic and citizen-scientists", reports Signal. "Using this information, scientists and resource managers can better track effects of climate change on the Earth's intricate life-support systems." More info at www.usanpn.org.
What Watchmen has to say about energy. Interesting analysis from Katharine Wroth at Grist about Hollywood's latest propaganda effort:
I hardly dare to write this post, to even edge my pinky toe toward the waters of Watchmen analysis, but I will say this: as a newcomer to the story, I was intrigued by the emphasis on energy. At one point, a major character blasts a bunch of smarmy oil execs, telling them humanity "deserves better than what you've given them."
(Visited 18 times, 1 visits today)